MY PROCESS FOR "DEEP DOWN" 36" X 48"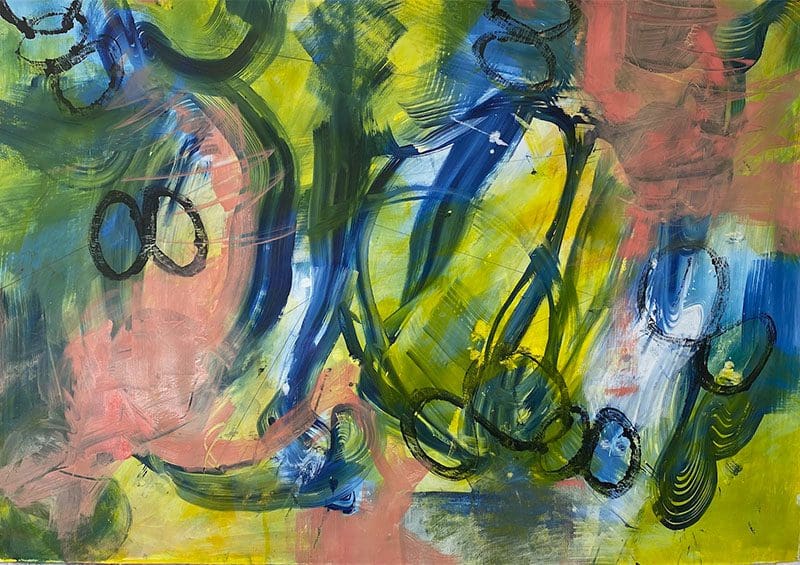 I PAINT PRIMARILY ON PAPER THEN MOUNT THE PAPER ONTO A WOOD CRADLE PANEL. MY FIRST LAYER IS MEANT TO COVER THE WHITE OF THE PAPER. MY COLOR CHOICES VARY AND I TRY TO CHALLENGE MYSELF WITH NEW COLOR COMBINATIONS SO I DON'T GET TRAPPED INTO USING THE SAME COLORS ALL THE TIME. MY CHALLENGE HERE WAS TO USE PRIMARY COLORS WITHOUT RED.
I STARTED TO PLAY NOW BY ADDING PENCIL LINES AND STENCILS . I ADDED WHITE IN THIS STAGE JUST FOR VARIETY. ALSO, I KNOW THAT I WILL USE TRANSPARENT PAINT NEXT AND THE WHITE, WHEN PAINTED ON, WILL MAKE THE COLOR MORE VIBRANT.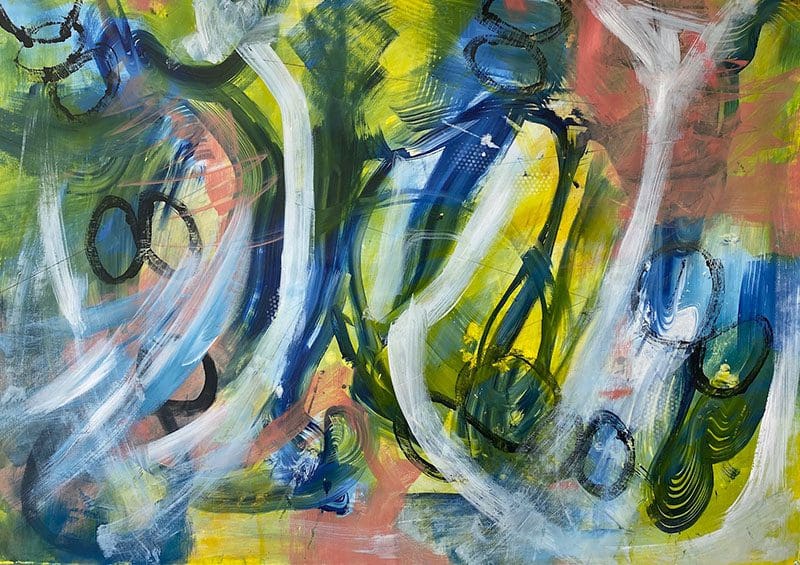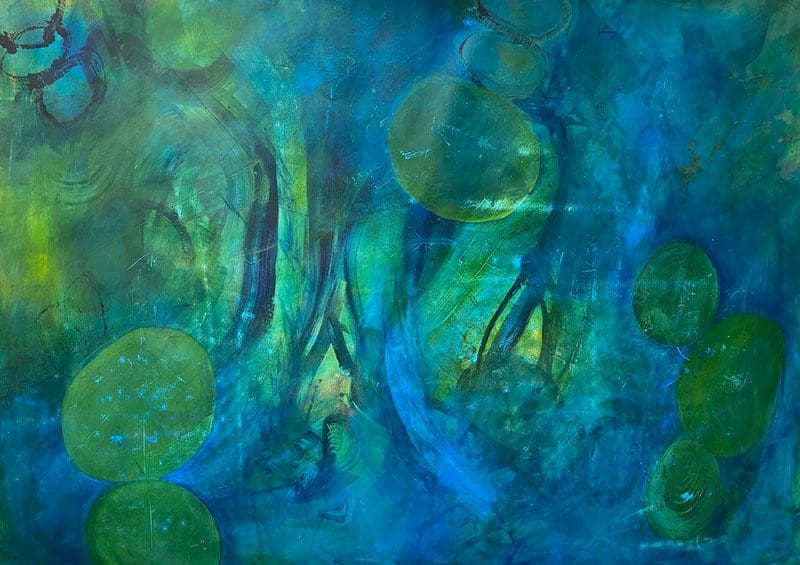 I THEN STARTED TO EXPERIMENT WITH TRANSPARENT PAINT. I LIKE THE DEPTH THAT HAPPENS WHEN USING IT. I THEN ADDED THE CIRCULAR SHAPES OF YELLOW BY WAY OF TRANSFER FROM A SHEET OF PARCHMENT PAPER.
AT THIS POINT, I DECIDED THAT THE PAINTING LOOKED MORE INTERESTING AS A VERTICAL AND I ADDED ANOTHER LAYER OF LINE TRANSFERS (RED AND YELLOW SQUIGLEY SHAPES).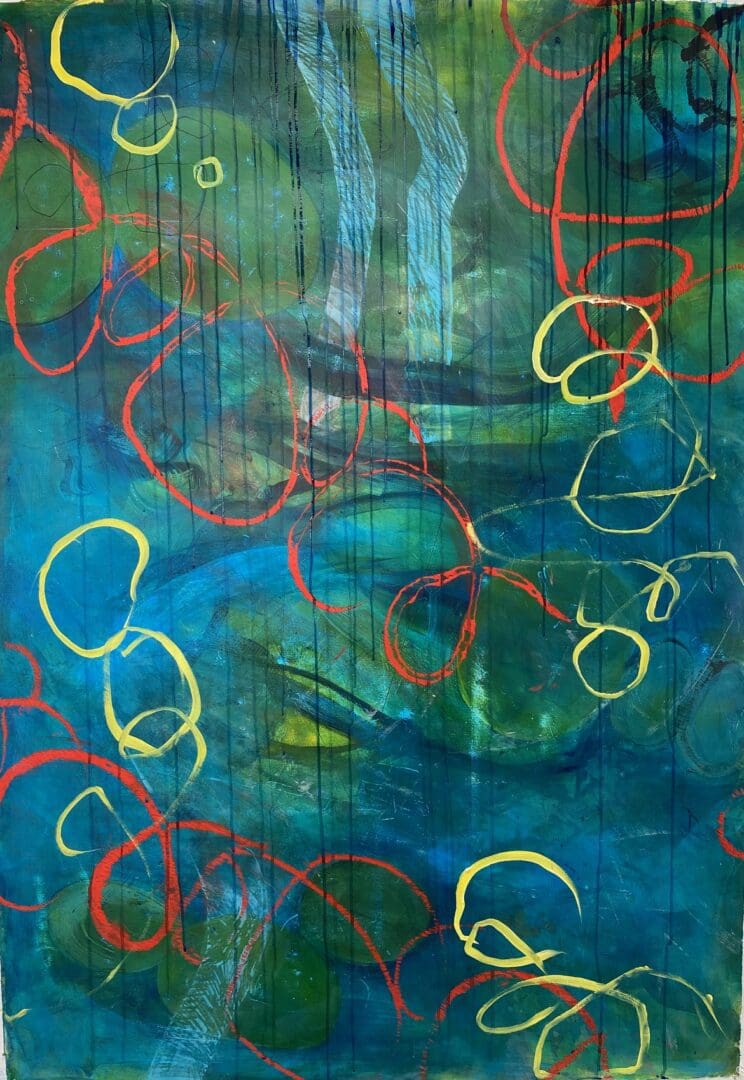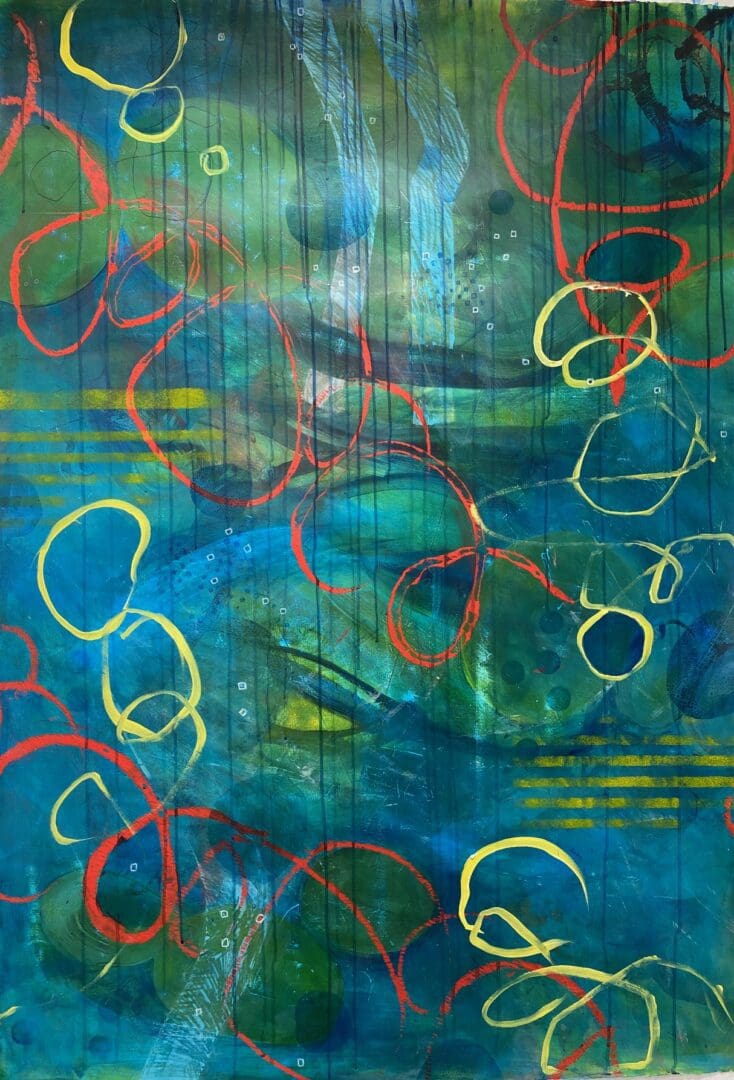 I FELT THAT THE PAINTING WAS MOSTLY HORIZONTAL, SO I ADDED THE DRIPS IN A SUBTLE WASH OF BLUE (FROM TOP TO BOTTOM). I KEPT PLAYING WITH STENCILS AND THE FINAL STEP INVOLVED MORE PENCIL MARKS AND WHITE CHINA MARKER FOR THE SMALL CIRCLES.
MY PROCESS FOR " THE CLEARING" 24" X 24"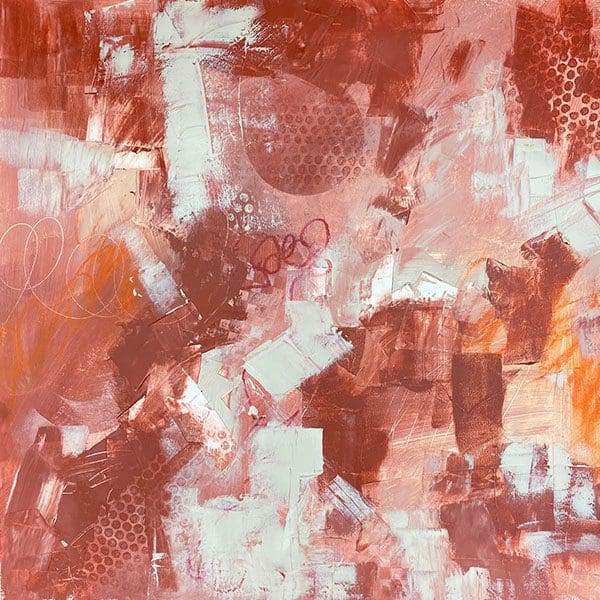 I COVERED THE WHITE PAPER WITH ACRYLIC PAINT. I SCRATCHED INTO IT AND PRESSED BUBBLEWRAP INTO WET PAINT. I DREW LINES WITH CRAYON AND USED MY PALETTE KNIFE TO SPREAD SOME OF THE PAINT THICKER IN SOME AREAS.
I ADDED BLACK SHAPES AND STROKES AND WHITE LINES AND TEXTURE.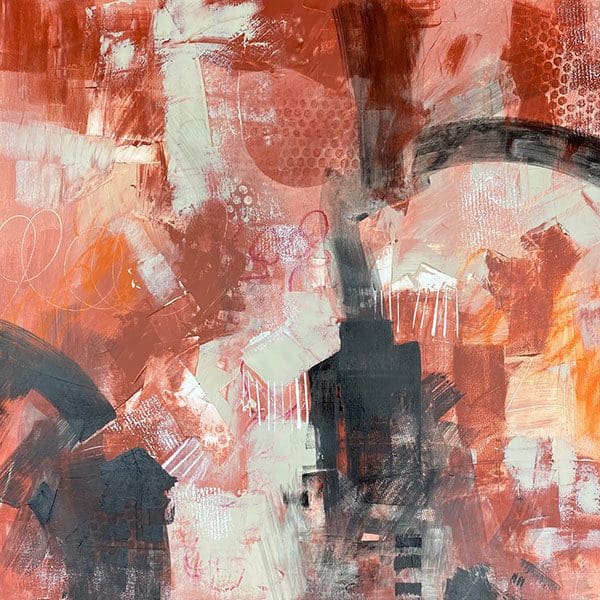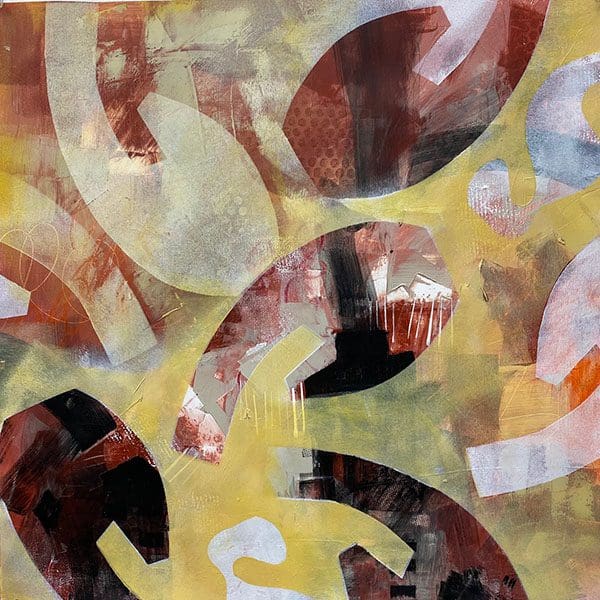 I MADE A TEMPLATE OF THE CURVED SHAPE AND USING A PAINT ROLLER I PAINTED THE YELLOW AROUND THE TEMPLATE TO COVER PARTS OF THE PAINTING.
I GLAZED OVER THE PAINTING WITH TRANSPARENT PAINT AND STARTED TO WORK ON THE BLACK FOCAL POINT BY ADDING MORE BLACK SHAPES AND ACCENTING WITH WHITE AROUND THEM. WITH MY CHECKERBOARD STENCIL I USED WHITE TO DIRECT THE EYE TO MOVE AROUND THE PAINTING.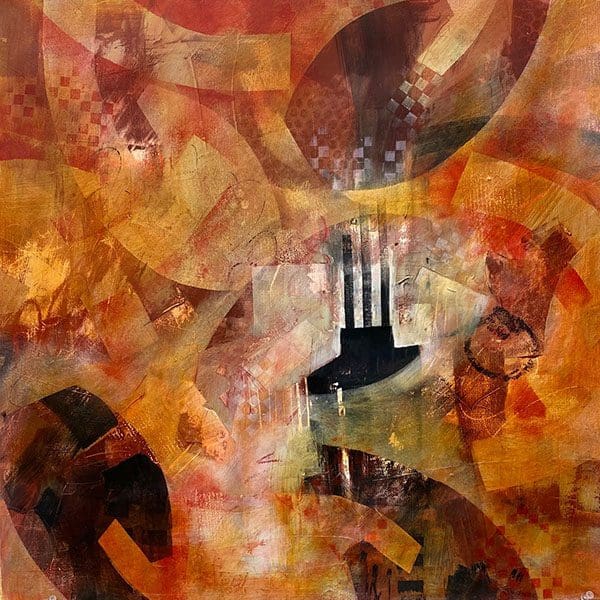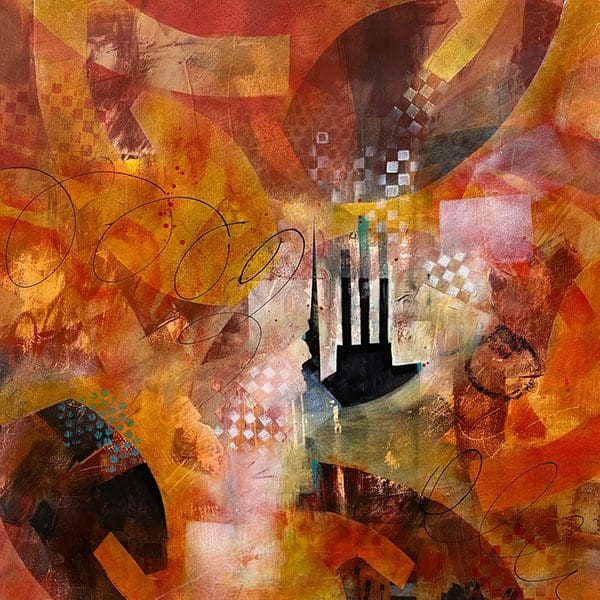 MORE WHITE IN THE CENTER AND BLUE ACCENTS FOR A MORE INTERESTING POP OF COLOR. THE BLUE DOTS ON THE BOTTOM LEFT WERE CREATED WITH BUBBLEWRAP. USING AN ACRYLIC PEN FILLED WITH BLACK PAINT I DREW QUICK LINES ACROSS THE PAINTING AND SPLATTERED RED PAINT IN PLACES.
I CREATED ANOTHER TEMPLATE ( STAR-SHAPED FORM) AND WITH A ROLLER LIGHTHANDEDLY ROLLED WHITE PAINT AROUND THE FORMS TO CREATE A LAYERED FEEL AND I ADDED MORE WHITE CHECKERBOARD WITH MY STENCIL. I FINISHED BY PAINTING THE SMALL CIRCLES IN BLUE AND WHITE PAINT. THIS DIRECTS THE OBSERVER TO MOVE HIS EYE ACROSS THE ENTIRE PAINTING. I AM NOW READY TO VARNISH THE PAINTING AND THEN MOUNT IT ON A WOOD CRADLE PANEL.